WEEPING TILE SYSTEM
WHAT IS A WEEPING TILE SYSTEM?
Weeping tile is placed at the face of the footing level around the house. It is connected to the sump pump, storm sewer, and in older houses the sanitary sewer, and are installed to pick up groundwater and surface water.
WHEN STANDING WATER WON'T GO AWAY
A drainage problem presents itself when the tiles become plugged or surface water can't get down far enough. The water literally has nowhere to go, except to seep into the basement. Odds are, if there is water in a basement, the weeping tile is the #1 problem. Ashworth Drainage can make that determination and will give you an honest assessment and a free quote to make solving your drainage issues a little easier. If the problem is serious, the best solution is to remove and replace your weeping tile.
WE HAVE A SOLUTION!
Ashworth Drainage will carefully excavate around the outside of your foundation down to the footings, then replace the weeping tile. While the exterior of your foundation is exposed, Ashworth technicians will check it over carefully, and make any necessary repairs, then properly waterproof the foundation. Our goal is to have satisfied customers that receive a professional, reliable, affordable experience. And we back all of our services with a 20 year warranty, guaranteed!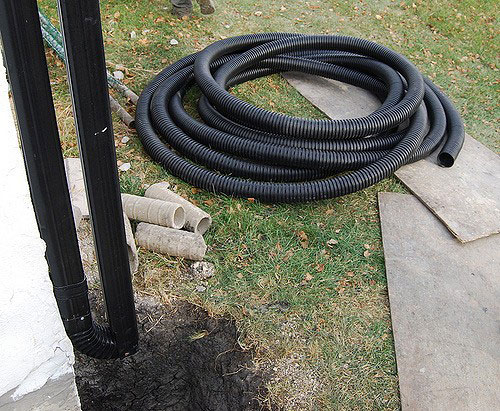 Ashworth Drainage takes care to deliver to our drainage customers the most effective and affordable solution. We will always look for an easy repair before a replacement and NEVER ask for a deposit!