WINDOW WELLS
Take a quick look at your basement windows: do they easily open and close? Are they nasty, leaky or rusty? Because these windows are flush with the ground or placed in window wells they can pose some serious drainage issues. Groundwater is very attracted to basement windows and sometimes it seems that no matter what you do to your garden or landscaping nothing can keep the water away. Don't worry, Ashworth Drainage has been solving these problems for years!
GET THE BEST DRAINAGE SYSTEM ON THE MARKET FOR BASEMENT WINDOWS
Don't settle for minimum code 4" drain tubes for your basement window wells. When basement windows are below grade, you want only the best window well drainage. Ashworth Drainage supplies their London, Ontario area customers with the biggest window well drain in the industry.
GOOD DRAINAGE IS A NECESSITY
If a window well pit fills with water, moisture will leak into the basement at the area where the window frame and foundation meet. Ashworth Drainage guarantees your window wells get the proper drainage they need. We will ramset the wells at the proper level, then ensure the excavated areas are filled with 100% recycled one-inch round stone just below grade, supply & install filter cloth and relay ground cover. We also recycle all excavated earth!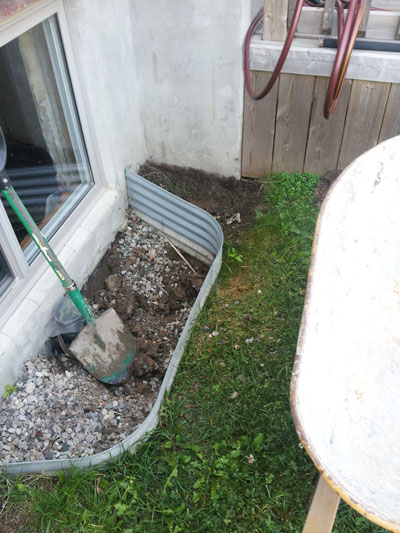 Ashworth Drainage takes care to deliver to our window well customers the most effective and affordable solution. We will always look for an easy repair before a replacement and NEVER ask for a deposit!